At Hey Slumber, we are always on the hunt for the best bedroom accessories to give you your best night's sleep. That's why we were so excited to try the Sunbeam Heated Body Pillow.
This extra plush heated pillow is perfect for side or stomach sleepers or anyone who wants ultimate comfort in their sleep setup. The heat settings are a fantastic luxury for those cold winter nights.
Before jumping into the review, we wanted to provide a few considerations when buying a body pillow.
Things to Consider Before Buying a Body Pillow
The body pillow is designed for side sleepers. When you place it between your knees or snuggle up to it, there is an easing in your pressure points. Pregnant women, those who like to sleep on their side like me, and those who are suffering from hip or lower back pain can find some pressure relief from this pillow. But what should you look for in this kind of pillow?
Size.
A good-sized pillow is one that can cover from your head all the way to your knees. If you don't have enough space to store it, you can always look for a smaller sized body pillow to use.
Filling.
The filling used for the pillow should also be a factor to consider. Cotton may be soft and cheap, but they don't really last long. A foam body pillow, on the other hand, can help ease the tension in your muscles, but it will be a bit expensive. If you prefer something soft, a feather fill may be a good option, but it can cause an allergic reaction.
Shape.
Body pillows come in a variety of shapes for different functions. For example, the C and J shaped pillows are designed to prevent the sleeper from rolling. A u-shaped body pillow, on the other hand, is ideal for pregnant women as well as those who have spine injuries.
Function.
Another factor to consider when looking for a heated body pillow is what its primary function will be. Like it was mentioned before, each shape has a distinct use so will have to identify which ones are appropriate for you.
Presenting the Sunbeam Heated Body Pillow
The Sunbeam heated body pillow is a soft pillow that can help ease the muscle tension in your hips and lower back to give you that much-needed rest. It comes with a heat feature for ultimate comfort as you sleep.
Pros:
Supportive of the lower back and hips

200 thread count and diamond-quilted 100% cotton cover

1500 grams of polyester fill for firm support

10 Hour Auto Turn Off

3 Heat Settings – Low, Medium and High
Cons:
Non-removable cover — doesn't come with a pillowcase!

It might be too large for some beds
Features and Benefits
Side sleepers, pregnant women, and those who have chronic back pains may find some relief with a body pillow. But what makes the Sunbeam heated body pillow a brand to consider to help support your hips and lower back?
If you are looking for a pillow that helps to support your growing belly or assist you in keeping a neutral spine, the features of this product may be what you are looking for.
3 Heat Settings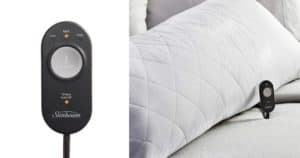 The Sunbeam Heated Body Pillow comes with a controller that provides you with three heat settings, plus an auto shut-off feature after 10 hours. The temperature controller gives you control over the heat being produced by the pillow. Simply adjust the temperature control to deliver the right amount of heat based on your needs. Thanks to its 10 hour auto shut-off feature, you can leave the heat running as you sleep for a more relaxed rest for several hours without worrying about having to turn off the heat settings.

Another great benefit of heat is the alleviation of muscle tension and improved blood circulation. This helps in loosening your tight muscles while ensuring that you will wake up feeling refreshed. The problem with side sleeping is that pinched nerves can occur which can prevent blood from circulating throughout your body. Thanks to the heating feature, you will be able to dissolve any buildup or obstruction to allow more blood to flow.
Polyester Fill for Support in the Right Places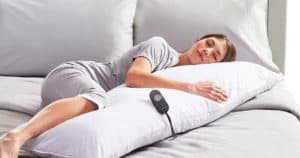 Designed to suit side and stomach sleepers, this product is packed with 1500 grams of polyester fill for that firm but comfortable support. It has enough give to it that can help ease the aches and pains in your hips and lower back.
Super Soft Surface



Another feature that Sunbeam's pillow offers is its super-soft surface for a more comfortable experience when snuggling up to it. It comes with a 200 thread count, diamond-quilted 100% cotton cover that is extra plush. Hugging it to your body will feel relief with its softness that helps reduce your stress and the tension for a good night's rest.
Machine Washable
Another feature that you will love about this product is that it has a removable cover that you can wash to maintain its freshness. This makes it easier to prolong the life of your pillow.
Alternatives to the Sunbeam Heated Body Pillow
Are there any alternatives to the heated body pillow from Sunbeam? As someone who is in need of a good pillow that can help ease the aching muscles and joints in the morning, I made it a point to look for other products that may solve these issues of mine. Fortunately, my search has yielded two brands and these are:
Snuggle-Pedic Ultra-Luxury Bamboo Shredded Memory Foam Full Size Body Pillow
Snuggle-Pedic's ultra-luxury bamboo pillow filled with shredded memory foam is another option to consider if you are in need of a full-sized body pillow to rest on. It boasts of its shredded memory foam filling that doesn't fall flat unlike other body pillows out there. It is designed to conform to your body's shape to reduce muscle aches and pains in the morning. What this means is that you can use this product regardless of whether you love to sleep on your side, your stomach, or if you tend to change positions at night. You can spread the pillow to its full length, or you can bunch it up to where you need the support the most.
What else is there to like about the Snuggle-Pedic? It sports a Kool Flow cover that is both soft and luxurious at the same time. It comes with micro vents that allow air to pass through thus preventing heat from getting trapped for a more restful sleep. It is made from 43% viscose of bamboo, 6% lycra, and 56.4% polyester materials that can help you stay cool and comfy all night long. The fill is packed with cloud-coated shredded memory foam with spun down alternative fiberfill to give you that smooth, soft, and comfortable pillow to rest on.
Pros:
Ultra-luxury body pillow catering to side and stomach sleepers.
Kool Flow cover with micro vents allows more air to pass through thus preventing heat from getting trapped.
Shredded memory foam and down alternative fill help provide you with enough support to ease the tension from your muscles.
Cons:
It is a bit thick which may not work well with everyone.
Oubonun Premium Adjustable Loft Quilted Body Pillows
A fully adjustable body pillow is certainly a welcome relief since you will be able to adjust its thickness based on your preferences. Oubonun takes its product to a whole new level by enclosing its fill with high quality quilted top that makes you feel like you are sleeping on the most luxurious pillow there is. It has a zipper on the side so you will be able to access the fill to adjust its height and firmness too. It doesn't matter what kind of sleeper you are, whether you like to sleep on your side, stomach, or your back, this body pillow will give you the support and comfort that you need for a good night's rest. What's more, it is hypoallergenic meaning that you will be protected from any allergens that may be lingering on the surface. The cover and even the pillow are machine washable so you can keep them in good condition for years.
Fluff your pillow up or flatten it as you see fit, you are in complete control over the Oubonun pillows. This is because of the adjustable fill design wherein you can remove the fill or add some more as you see fit. If you want to make it fluffier, give it a spin in your washing machine and you will see that it is extra thick. Since the product will arrive on your doorstep rolled and stored in a package, give it about two days before it can expand to its full size. The best part? It comes with 100% money back guarantee. If you are not happy with the quality of the product, you can return it and get a full refund.
Pros:
Adjustable body pillow gives you complete control over the loft and firmness.
Hypoallergenic cover protects you from possible allergens that can trigger an allergy attack.
The cover and the pillow can be washed in your washing machine for easy maintenance.
Cons:
Could be firmer — we suggest adding more stuffing!
Takes up a lot of bed space
Conclusion
The Sunbeam heated body pillow stands out from the crowd because it has one unique feature and that it is its temperature control. The benefits of a body pillow such as this are not only centered on comfort and support but also alleviating the aches and pains that are quite common in those who sleep on their side. It can be washed to remove the buildup of dirt, dust, sweat, and oils, plus it is hypoallergenic too. It supports your hips as well as your lower back and with its controller with 3 heat settings, you will be able to choose the right warmth to have at night. It offers that soothing sensation that removes the tension in the muscles while boosting your blood circulation too. There is no other pillow for the body that offers the heated feature hence this one is worth checking out.
Other Recommended Products