Sleep apnea is a serious condition that can hamper your sleep quality and make you feel tired during the day. There's no quick fix to this sleep disorder but lifestyle changes, improving sleep, and seeking professional help can address complications. One thing that can assuage discomfort is buying the best mattress for sleep apnea. This isn't the cure to sleep apnea but it will give immense relief that, combined with other strategies, can put you on the path to good sleep health.
Best Mattresses for Sleep Apnea – Our Top 5 Picks
This mattress is a flippable natural latex mattress with a different firmness on each side. It has five-zoned support, which means it's denser in the areas where you need most support and softer in areas that don't need as much support.
Not only is this made from responsibly-sourced Talalay latex, it's organic, hypoallergenic and antimicrobial. The non-toxic materials bring peace of mind if you suffer from sleep apnea and don't want your symptoms to flare up. Latex is particularly good for resisting mites, mold and microbes so you sleep on a clean, dry surface.
The flippable mattress gives you two options for firmness: Gentle Firm and Luxury Plush. The Luxury Plush side is a touch softer than Gentle Firm, which is around a 7 on the firmness scale.
I recommend Gentle Firm for stomach sleepers. It's not comfortable enough for sleeping on the side. Stomach sleepers will also get decent support on the Luxury Plush side but it won't cushion the pressure points of people who sleep on their side, unless they are significantly heavier than the average person.
The latex used in this mattress is responsive and bouncy which makes it easy to change positions as you sleep. As a result though, there's significant motion transfer.
This mattress is made of durable, high quality materials so it's sure to last a long time. That means it's also quite an investment.
Latex is compatible with adjustable beds which can alleviate sleep apnea symptoms and snoring.
Pros
180-night home trial, white glove delivery and 20-year warranty
Made of natural Talalay latex
A flippable mattress with a different firmness on each size
Has zoned support
Hypoallergenic and antimicrobial to prevent respiratory problems
Best for stomach sleepers with sleep apnea and heavier side sleepers
Responsive and durable, will have a long lifespan
Can be used on an adjustable base
Cons
Not for side sleeping
A pricey investment
Motion isolation isn't good because of its bounciness
Amerisleep – AS3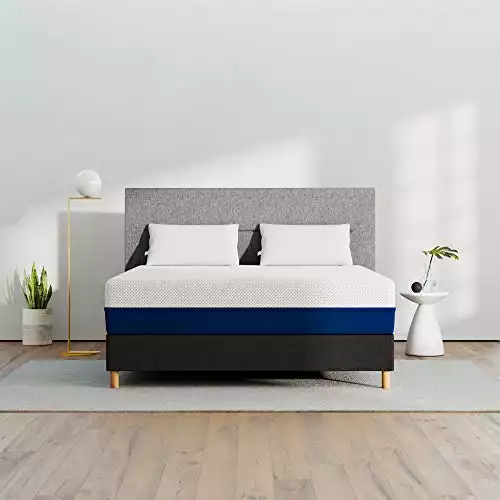 Amerisleep's bestselling mattress, the AS3 is made of a proprietary plant-based memory foam called Bio-Pur. It doesn't have the slow response of traditional memory foam. It's more responsive and breathable and made with less petrochemicals which minimizes off-gassing that can trigger sleep apnea symptoms.
The AS3 mattress has medium firmness, ideal for sleeping comfortably if you snore or have sleep apnea. This will give the most pressure relief for sleep apnea sufferers who sleep on their side. Stomach sleepers will be happier with a firmer mattress, so they can choose from other offerings from Amerisleep.
The three layers of responsive, CertiPUR-US certified foam cradle pressure points without the quicksand quality characteristic of subpar memory foam. This is suitable for people with sleep apnea because they will be more comfortable sleeping on top of a mattress, not sinking into it.
The AS3 mattress has a five-zoned support system that's firmer under the head, upper body, and feet to maintain proper alignment and softer under the the shoulders and hips, which are areas that need more plushness.
The sturdy Bio-Core base layer ensures that the foam mattress won't sag even after years of use. For side sleepers with sleep apnea, the AS3 mattress is a great investment.
Pros
100-night sleep trial, 20-year warranty, and free returns
An all-foam mattress made from plant-based Bio-Pur memory foam
Responsive and temperature neutral with a medium firmness
Minimal off-gassing and can be used on an adjustable bed
Best for side sleeping
Relieves pressure points without too much sinkage
Has a zoned support and CertiPUR-US certified foam
Its foundations are well-constructed to minimize sagging
Cons
Too soft for stomach sleepers
Not for sleep apnea sufferers who are extremely light or extremely heavy
Zoma Mattress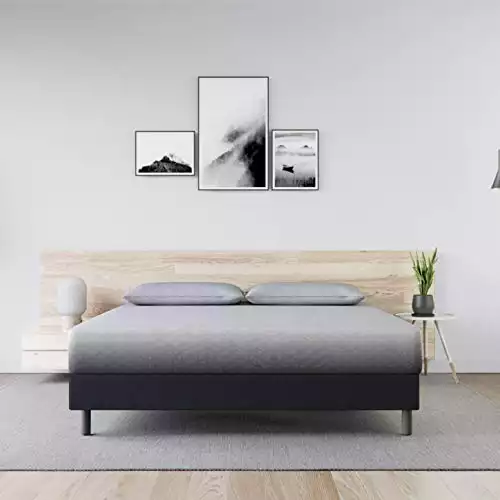 The qualities that make the Zoma Mattress great for performance and recovery makes it appealing as a mattress for sleep apnea. To put it succinctly, it has a medium firmness and five-zoned support which means the sleep apnea sufferer sleeps on the mattress, not in it. That alone promotes maximum airflow into the body because it keeps your posture in check and your spine in its neutral alignment.
This is an all-foam mattress comprised of three supportive layers, the first of which is a cooling gel memory foam comfort layer. This topmost layer features the brand's Triangulex technology and provides excellent pressure relief and temperature regulation. The mattress is filled with several triangular sections that divide the mattress into three zones, each with different firmness for customized support for your head, upper body, and legs.
The middle layer is made up of a latex-like poly foam Reactiv layer which is more responsive than the top layer so the mattress won't sag under the weight of the sleeper. The last layer is made up of 7 inches of sturdy poly foam for additional support and durability.
The Zoma Mattress will be most comfortable for side and back sleepers. It adapts to the body and makes changing sleep positions easy. You get premium features for a reasonable price.
However, this isn't the right mattress for stomach sleepers and back and side sleepers over 230 pounds. This mattress will be uncomfortable for hot sleepers because pure foam mattresses just don't have enough ventilation compared to hybrid and innerspring models.
Pros
Free shipping and returns, 100-night trial, and 10-year warranty
A performance mattress with zoned support the head, upper body and leg
A medium firm mattress that alleviates sleep apnea symptoms by aligning the spine
An all-foam construction with a gel memory foam layer, can be used on an adjustable base
Has durable, supportive support and base layers
Best suited for back and side sleeping and those who sleep next to a CPAP machine
Responsive and bouncy, ideal if you switch positions through the night
Has an affordable price
Cons
Not a good mattress for stomach sleeping and heavy side and back sleepers
Will sleep hot due to its all-foam construction, though this is somewhat reduced by the airy cover and ventilated ridges on the memory foam
Vaya Mattress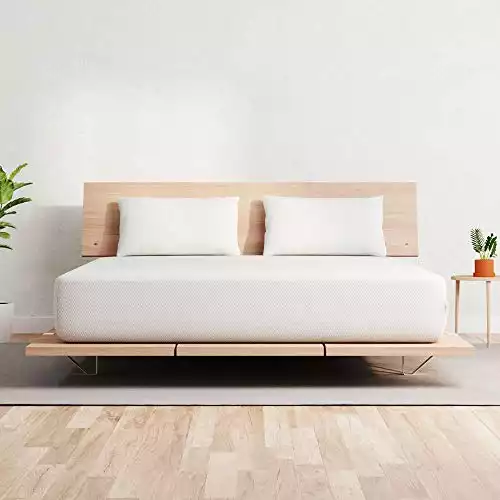 If you want a mattress for sleep apnea that will give you the most bang for your buck, the Vaya Mattress will give you the essentials.
Though it's affordably priced, it has 12 inches of foam, a thick profile that gives loads of support, especially for side sleeping. The construction is minimalist, as it has two layers of open-cell Vaya foam. The comfort layer is breathable and contouring, padding those sharp pressure points so you don't wake up sore and achy.
To prolong the life of the mattress, there's a thick layer of high-density poly foam. The base layer prevents sagging which significantly impacts the support of the mattress over time.
The mattress is a 5 on the firmness scale. It feels bouncy yet soft. It's easy to move on the mattress without feeling stuck. It has good responsiveness. While this is ideal for sleep apnea sufferers who sleep on their side, stomach sleepers over 130 pounds will have lots of sinkage.
The thick foam layer provides immense pressure relief, even for side sleepers, who need that extra support and padding. It will evenly support sleepers with sleep apnea so their spine stays in its proper alignment.
However, it doesn't mold as closely to the body as memory foam, which means it bounces back quickly if you change positions through the night.
The Vaya Mattress is a bed-in-a-box model so it comes compressed. That means it will emit some odors due to off-gassing. This is typical with bed-in-a-box mattresses and should disappear in a few days when well-ventilated.
However, if waiting time is an issue for you and you want to use a mattress right away, there are other better options. You can avail of their 100-night trial in case you have doubts. There's also a generous 10-year warranty for any defects.
Pros
Free shipping and returns, 100-night trial, and 10-year warranty
An affordable foam mattress with a thick profile
Good pressure relief with lots of breathability
Has a high density poly foam base for added durability
Is on the softer side of medium firm, best for side sleeping
Responsive, good for sleepers who switch positions
Soft but doesn't have a traditional memory foam feel
Can be used on an adjustable bed
Cons
Not for stomach sleepers over 130 pounds
Off-gassing is to be expected with this mattress
Sleepers with sleep apnea from all weight classes will find plenty of firmness of options from the WinkBed. It's a luxury hybrid mattress with a Euro-pillow top, foam comfort layers and pocketed coil support and base layers.
You can choose one out of four firmness options, which are (in order of firmness from soft to firm) Soft, Luxury Firm, Firmer, and Plus. There's something for every sleep apnea sufferer whether they sleep on their stomach or side.
The plush pillow top cushions the hip, back, and shoulders to soothe any tension. There's a special section for lumbar support in the middle of the mattress which is designed to reinforce the back for proper spinal alignment.
The innerspring support layer is divided into 5 zones with individualized firmness for each area of the body. That's why this is probably the best pressure relief mattress for side sleeping and hot sleepers.
The unique construction and breathable layers will mitigate any warmth and stickiness while the zoned support and lumbar layer is just what a side sleeper with sleep apnea symptoms needs.
This mattress is good for couples because it utilizes a motion isolation technology through a layer of stabilizing gel foam which reduces motion transfer. Sleep interruptions are a bane for couples and sleep apnea sufferers, so this is an underappreciated feature.
This mattress is such an easy recommendation to anyone except lightweight side sleepers with sleep apnea. This is especially true for the firmer WinkBed mattresses which can cause pressure to build up if you're under 130 pounds.
Pros
120-night trial, free shipping and returns, and full replacement lifetime warranty
A hybrid mattress with a range of firmness levels
Provides lots of pressure relief for side sleepers or sleep apnea sufferers with a CPAP machine
Won't sleep hot
Has great lumbar support and a soft pillow top for extra padding
Good motion isolation, a must for couples and people with sleep apnea
The pocketed coils make this a very durable, cooling mattress
Can be used on an adjustable base
Cons
Not for lighter people who sleep on their side
Quite pricey
Sleep Apnea 101
What is sleep apnea?
Sleep apnea is a disorder characterized by the blockage of airways during sleep. Breathing temporarily stops as a result, which decreases the flow of oxygen to the body. Sleep apnea sufferers may snore loudly but this isn't applicable to all. Not all snorers have sleep apnea.
People afflicted with sleep apnea may also gasp for air, which interrupts their sleep. They may also find it difficult to stay asleep due to extended pauses in breathing.
What are the 3 types of sleep apnea?
Obstructive sleep apnea
This form of sleep apnea affects the majority of sufferers. It's caused by the relaxing of muscles in the back of the throat which constricts or blocks the airways. When blood oxygen levels drop due to the lack of air, the brain alerts the sleeper by briefly waking them up. The sleeper may not even be aware that their sleep was interrupted.The disruptions can lead to gasping for air multiple times per hour, every hour. As a result, sleep quality worsens and the person wakes up exhausted.
Central sleep apnea
This occurs when there's a disconnect between the brain and the muscles that control your breathing. When the muscles don't receive signals from the brain, they cease to function, which leads to a pause in breathing. This awakens the sleeper or keeps them from sleeping. They may experience shortness of breath and trouble staying asleep.
Complex sleep apnea syndrome
This form of sleep apnea is a combination of central sleep apnea and obstructive sleep apnea. It's also known as treatment-emergent central sleep apnea.
Can a mattress help sleep apnea?
There is no one-size-fits-all best mattress for snoring or sleep apnea. A good mattress will correct sleep posture to alleviate symptoms of the disorder. A recent study shows that sleeping on the back is the worst position for sleep apnea because the throat muscles and tongue relax too much and blocks air from going in the lungs.
In contrast, stomach sleeping significantly reduces symptoms of sleep apnea. In this particular study, they used memory foam mattresses on the participants. Memory foam works for sleep apnea by easing sharp pressure points in the hips and shoulders without compromising spinal alignment.
Sleeping on the side and stomach is better for sleep apnea than back sleeping.
Another solution is an adjustable bed. This allows the sleeper to elevate their head, thereby reducing symptoms such as snoring.
How to Choose the Best Mattress for Sleep Apnea and Snoring
Which mattress is best for sleep apnea?
The best mattress for sleep apnea is one that's not too soft and not too firm. It should be able to support side and stomach sleeping comfortably. Medium firm mattresses give the ideal type of support for sleep apnea sufferers because the sleeper will lie on top of the mattress instead of sinking in too much. This promotes natural spinal alignment, which in turn, encourages the airways to open.
Most importantly, the best mattress for sleep apnea fits the needs of the individual as our bodies and preferences are different so the right mattress for one person will be too plush or hard for another.
Things to consider before buying a mattress for sleep apnea
Natural and Hypoallergenic Materials
Since sleep apnea is a respiratory issue, you don't want to exacerbate the disorder by exposing yourself to allergens and volatile organic compounds (VOCs) which affect your breathing. If it's in your budget, choose a mattress that's organic and natural. However, if that's too pricey, you can always opt for a hypoallergenic or antimicrobial mattress made of synthetic materials.
Mattress Type
Memory Foam
This is a well-loved mattress material because it relieves pressure points very well. It's comfortable, allowing the hips and shoulders to sink evenly when you sleep on your side. It conforms to the body closely and promotes a neutral spine alignment.
A disadvantage with memory foam is it retains heat fairly well. This can be alleviated through gel infusions and ventilated designs. In addition, low density and low quality memory foam sags quickly, which lessens support.
Latex
Latex can be natural or synthetic. Natural latex is preferred for sleep apnea. This material is derived from rubber tree sap and is hypoallergenic and all-natural. Synthetic latex can contain chemicals that trigger allergies and affect breathing.
Hybrid
Hybrid mattresses have a comfort layer of foam supported by a coil support system, usually individually-encased or pocketed coils. These are more hypoallergenic than innerspring mattresses and you can find high quality hybrid mattresses for a good price. They also last well and maintain their responsiveness.
However, if you're using this on an adjustable bed, you have to double-check if the mattress is suited to the frame.
Firmness
Though stomach sleeping is highly recommended, many sleep apnea sufferers sleep on their side because they have to be connected to a CPAP machine that regulates their breathing. This sleeping position needs adequate support in the neck, shoulders and hips so pressure buildup is prevented.
You also need a conforming material. The best firmness for sleep apnea is medium firm. This is comfortable for the sleeper and cushions pressure points but is firm enough to line up the spine naturally and prevent too much sinkage.
The Verdict
Hopefully, this brief roundup steers you in the right direction if you're in the market for the best mattress for sleep apnea. I included options with different constructions, materials, and price points so there's something for every preference and budget.
That being said, I think the best mattress for sleep apnea in the list is the WinkBed. It's packed with features that are suited for sleep apnea and snorers such as the lumbar support region and adjustable base support. On top of that, it's an all around great mattress with lots of firmness options. It's easy to recommend this for all sleeping positions and individuals of all sizes. The hybrid mattress is a perfect medium of responsiveness and cushioning, thanks to the coil system and foam. The lifetime warranty is an added bonus and really boosts trust in the quality of the materials.
A thing that this mattress does well that's unmatched by the other picks for best mattress for snorers and sleep apnea is its motion isolation. If you have sleep apnea or sleep next to someone, you need a deep, long sleep without interruptions. Motion isolation is a small feature that makes a big difference.
Other Recommended Products