Whether you're suffering through those warm summer nights or prefer to sleep cool at any time of year, an electric cooling blanket can be an excellent option for a more comfortable sleep.
With that in mind, the team at Hey Slumber has rounded up the 3 best electric cooling blankets and cooling systems to help you have your best sleep yet. Below we have included some non-electric cooling blanket alternatives too.
The 3 Best Electric Cooling Blankets for a More Comfortable Sleep
ChiliSleep Cube Sleep System
Our Pick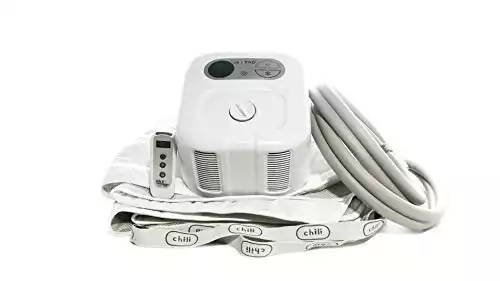 Kicking off our list is the highly-rated ChiliSleep Cube Sleep System. It has a dual heating and cooling function, making it a fantastic option for someone looking for all-year-round temperature control.
Here's how it works: water circulates through tubes throughout the cooling pad that goes over your mattress. It regulates your temperature as you lie on it, so you get comfortable and deep sleep.
You can choose from a range of temperatures from 55 to 115 degrees Fahrenheit. While it's not meant to replace an AC, it makes a massive impact on sleep quality by customizing temperature to your own preferred level and trapping heat away from the body.
It uses less power than an air conditioner (80 watts per cube), so it can be an energy-efficient alternative if you can bear to turn the AC off.
This cooling blanket is couple-friendly because you and your partner can set your own temperature. The water-filled pad is secured firmly on the mattress by strapping it on.
Keep the Chili electric cooling blanket clean by washing and drying it without heat.
Pros
A water-powered cooling pad that regulates sleep temperature (both heating and cooling)
Has customizable coolness levels
Traps heat away from the body
Energy-efficient and comfortable
Good for couples because you can set different temperatures for separate sides of the bed
Has secure straps
Machine washable and dryer-safe so it's easy to keep clean
Cons
The fans could be quieter

Needs maintenance — every 2-3 weeks, you need to top off the distilled water in the reservoir
BedJet 3 Climate Control for Beds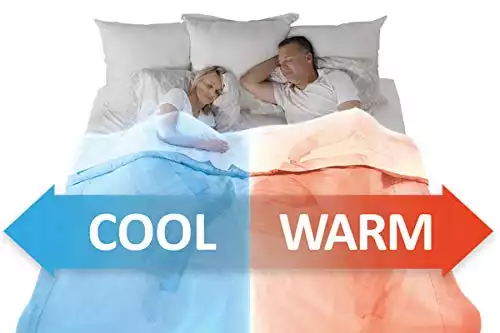 While the BedJet Cooling System isn't technically a cooling blanket, the system provides cooling to your existing bed linen setup. The BedJet electric blanket doesn't cool you down electronically, but it uses cool and hot air to regulate temperature, somewhat like a fan in a blanket.
It provides powerful ventilation to ward off heat, handy for menopausal women and hot sleepers. If the room is too cold for your taste, you can use the BedJet like a heating blanket.
The BedJet system lends a luxurious sleeping atmosphere to any room with a quiet digital motor and moisture elimination functions. If you feel stuffy from a memory foam mattress, getting this electric blanket is better than splurging on a new foam.
It has a Dual Zone temperature control that lets you set a different thermostat for each side of the bed.
Included with the electric blanket are two BedJet units and two wireless remotes. It also comes with comfortable Cloud Sheets and free access to the Bluetooth app, so you can use your cellphone or tablet to control the blanket.
The BedJet blanket is ultra-customizable because you can set temperatures for every hour of the night. This electric cooling blanket will fit a single, queen, and king-size mattresses.
Pros
An air-based electric cooling blanket
Regulates temperature through fan-like ventilation
Can be used as a heating blanket
Has a quiet digital motor
Eliminates moisture and sweat
Has a Dual Zone temperature control that you can set to warm or cool
Comes with two wireless remotes and two units
Allows you to set the temperature for every hour of sleep
Comes in single, queen, and king size
Cons
Expensive

It can be a little loud
2020 Mattress Cooler Classic – Chilled Mattress Topper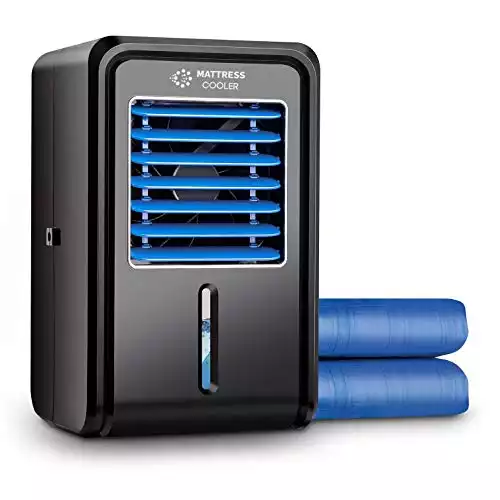 A more affordable alternative to a better night's sleep is the Chilled Mattress Topper by Mattress Cooler. 
Rather than a cooling blanket, it's a cooling pad that can be placed between a mattress and a fitted sheet.
The system works by chilled water circulating through a PVC vinyl mattress cooling pad. The chilled pad removes body heat, cooling you to a desired sleeping temp. After the water has absorbed your body heat, it's returned to the Mattress Cooler and recirculated.
While the PVC material of the cooling pad isn't the most comfortable option, it is one of the most effective cooling systems we have tried. This cooling pad can get really cold! This is a fantastic option for someone looking for a more comfortable night's sleep.
Pros
Easy, hassle-free setup

Much quieter than competing cooling blankets

Can chill water 7 – 12 degrees below room temperature
Cons
Potential for leaks 

You will have to check for moisture or mold regularly 

Can sometimes shift under the bed sheet
3 of the Best Cooling Blankets
If the electric version isn't for you, here are some great cooling blanket alternatives to consider:
YnM Bamboo Weighted Blanket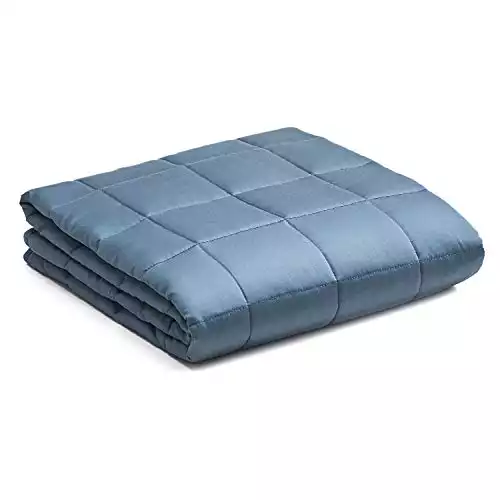 If you love bamboo pillows, this is the best cooling blanket for you.
It's a cooling weighted blanket made of bamboo viscose threads with seven layers of sleep-inducing compression. Inside the quilt are glass beads that encased in small compartments that distribute the weight evenly on your body. If you've experienced weighted blankets that shift too much, the small squares make sure the glass beads don't move around.
Whether you use the weighted blanket on its own or with its accompanying duvet cover, it will conform to the contours of your body. It gives a cooling, relaxing sensation that lasts through the night.
Despite several layers of fabric, the cooling blanket has a comfortable, breathable feel and will regulate temperature well. Its natural fibers will absorb moisture and release it into the air. This tension-relieving blanket is ideal for allergy sufferers and those with sensitive skin.
To maintain the cooling blanket's quality, you can machine wash and dry it.
This bamboo cooling weighted blanket comes in several sizes, weights, and colors so it will fit your body and your room well.
A disadvantage with this cooling blanket is its hook and tie design. Some users have claimed that the cover doesn't fasten securely on the weighted blanket.
Pros
A cooling weighted blanket made of bamboo viscose known for its cooling properties
Filled with glass beads that distribute weight evenly
Conforms to the body
Regulates temperature
Absorbs moisture from night sweats
Allergen-free and skin-friendly
A machine washable weighted blanket
Comes in multiple sizes, weights, and colors
Cons
This cooling weighted blanket has a subpar hook and tie design
Elegear Revolutionary Cooling Blanket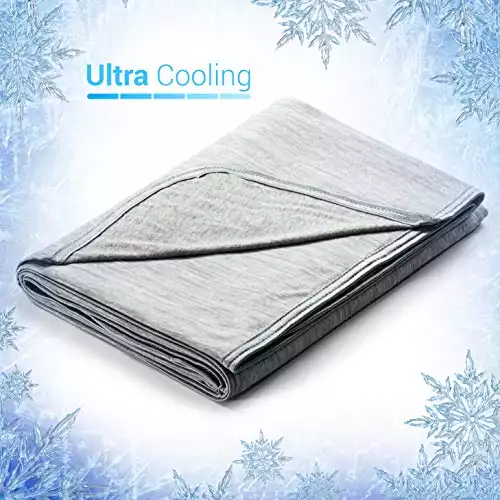 If you prefer a lightweight cooling blanket, Elegear presents an enticing alternative. You can even wrap your baby or toddler in it safely so they can sleep well through the night (and in effect, not disturb your sleep).
This is made of a Japanese cooling fiber with polyethylene and mica nylon on top and 100% cotton on the other side. This combo works wonders for breathability. It will serve you well for most of the year, from spring to autumn. On summer nights, this will absorb the heat on your body so you can sleep without night sweats.
The 100% cotton fabric feels lovely on the skin. It's gentle and smooth. Because it's so lightweight, you can take this with you on flights and road trips. It's hypoallergenic so you won't have to worry about triggering sneezes.
To keep these cooling blankets clean, you can machine wash them. Because of their size, they're easy to store. Perfect for low maintenance cleaning and space-saving.
You can also use the Elegear Cooling Blanket as a throw and couch blanket. You can get it three sizes and five colors. I recommend this to hot sleepers who want a portable blanket for both home and travel use. It will feel like sleeping on the cool side of the pillow anywhere you go.
A disadvantage that comes with the blanket's lightness and smoothness is that it easily slides off and moves around when you sleep.
Pros
A lightweight cooling blanket that's safe for babies and toddlers
Made of Japanese cooling fiber and pure cotton which dispels night sweats and moisture
A suitable blanket for most of the year
Made of a gentle and smooth fabric
Portable and easy to store
Machine washable
Comes in multiple sizes and colors
Cons
Has a tendency to slip off
DANGTOP Cooling Blankets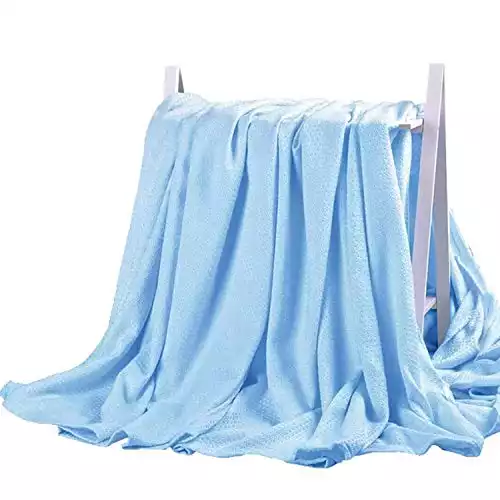 This is a simple, comfortable cooling blanket made from high quality bamboo fibers. It's light so you can easily move around as you sleep. This is the best feature for those who can't keep still through the night.
The bamboo fabric has a unique weave pattern that allows air to pass through. This lets heat dissipate away from the body while bringing cool air inside the blanket, preventing night sweats.
The cooling blanket has a silk-like softness but unlike silk, it's easy to care for and long-lasting. You can handwash the blanket to remove dirt and debris. It's advised to line dry the blanket so it won't shrink.
If you use an AC and want added comfort, this cooling blanket will suit you well. This is great for balmy summers because it can dispel high levels of heat. It can be layered with a thicker blanket in cool weather.
The cooling blanket comes in two sizes. It will cover one person comfortably. It's great for pets, traveling, and lounging. Choose from several colors and a plaid pattern.
Some people may find this blanket too fussy to keep clean. For those who don't want to handwash their sheets or don't have space to hang dry the blanket, it's better to look at other cooling blankets.
Pros
Made from cooling bamboo fibers
Lightweight and comfortable
Has a breathable weave pattern
Soft and durable
Expels heat and retains cool air
Comes in multiple sizes and colors
Can be used as a travel, pet or throw blanket
Cons
Is handwash and hang dry only, making it one of the more high maintenance blankets on the list
A Guide To Buying a Cooling Blanket
Do cooling blankets work?
Whether electric or not, cooling blankets use different methods to keep your body temperature down.
Fabric
The most common ones are unique fabrics and technology. Regular cooling blankets use breathable fabrics that wick moisture away from the skin. These fabrics include bamboo, cotton, polyester, fleece, and acrylic. These thermoregulating textiles don't get damp or soggy as it absorbs sweat, and they're often incredibly lightweight.
These fabrics often have a high thread count to enhance their cooling properties, ranging from 300 to 500. If you look at the threads up close, they will have a knitted pattern instead of a typical weave. This is an elastic pattern that expands to allow more air to circulate. It's designed to repel heat from getting inside and coming in contact with the skin.
Water and Gel
Cooling blankets may also use water or gel infusions to fill the cover. Some gel-based cooling blankets have gel permeating into the fabric.
Weighted Blankets
There are also weighted cooling blankets that use weights such as glass beads and pellets, which press down on the body, alleviating anxiety and stress, which can cause high body temperature. As a byproduct of these weights, the blanket can conduct coldness better.
Air Cooling
Different types of technology are used in electric cooling blankets. One kind is an air cooling technology that diffuses coldness through air pockets, somewhat like an air conditioning blanket. Instead of wicking away moisture, it pumps cool air around you as you sleep, thereby pushing out the hot air that's trapped inside.
What are the advantages/benefits of using a cooling blanket?
The health benefits of cooling blankets are worth the extra cost. They promote a cool sleeping environment, so you fall asleep faster and deeper. The drop in temperature sends signals to the brain that you're ready to get some shuteye.
Cooling blankets also prevent sleep disruptions, especially if you experience hot flashes or night sweats. A cooling blanket will cover you and keep you in a cozy cocoon without heating you. This is great if you prefer falling asleep with a blanket but tend to get too hot under a regular blanket.
You can get a cooling blanket for a reasonable price or go all out and splurge on a high-end one. They come in many sizes and styles to suit your tastes. Some blankets are made to go under your bedsheets if you want invisible cooling, acting as a pad.
Definitely try out a cooling blanket if you live in warm climates with sweltering springs and summers. Hot sleepers will benefit from this blanket the most. It's also a good option if you're sweaty or sleep next to someone who perspires a lot, which can hamper your sleep quality.
How to choose the best cooling blanket
I've found that these qualities are essential things to check when buying a cooling blanket. These things make the most difference and should be prioritized.
Fabric


Go for a lightweight, airy electric blanket that feels good on the skin and expels body heat. Fabrics such as 100% cotton, pure linen, and soft silk come to mind. Moisture-wicking properties are essential to dry off hot sleepers.

Design


Weaved fabric affects the cool blanket's breathability and ability to let body heat dissipate. Observe the pattern and tightness of the weave or knit.

Temperature Regulation


Look at the blanket's technology to control heat and cool down the sleeper. Will it absorb and disperse heat effectively? You should also look at space requirements and how long the cord is for electric blankets. Make sure it will fit comfortably in your bedroom.

Price


High quality often comes with a high price, but electric cooling blankets can be had for a reasonable cost.

Durability and Warranty


Even when an electric blanket looks well-constructed and durable, a warranty will give you peace of mind, especially for more expensive electric cooling blankets.
What's the best way to use a cooling blanket?
Regular cooling blankets work the same way non-cooling blankets do, so you can layer them under or over your body when you sleep.
Electric cooling blankets work the same way. These can be used to pad a mattress or drape over the body. The difference is that you need to install their control units and plug them into a power source before using them. Always read the manufacturer's instructions carefully.
Final Thoughts
If you're looking for the best cooling blanket out of the bunch, it's hard to go wrong with the ChiliSleep Cube Sleep System water-based electric blanket. This is the best type of technology for warding off heat. Water is exceptionally cooling and lying down on the pad will ease you gently into the perfect slumber.
You can customize the temperature of the blanket if you want more heat or cold. It allows you to choose a different setting for each side of the bed. The blanket is easy to care for as it's machine washable. It will attach to your bed securely and won't shift.
While I'm not saying you absolutely need this expensive temperature-regulating blanket in your life, this blanket is best in class at keeping you free from clammy, hot nights. I'd love to see how far this temperature-reduction technology goes in the future.
Our Pick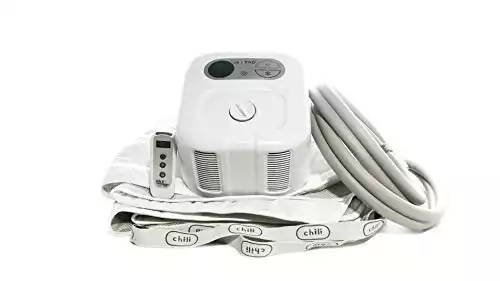 Other Recommended Products