Have you ever found the perfect pillow only to discover that it quickly lost its shape after a few months? A deflated pillow disrupts your sleep because you have to constantly fluff it up to get the loft you need. Worse, it may give you neck pain if your head is thrown off its natural alignment with the spine. If you're dealing with pain from a pillow that won't keep its shape, I recommend looking into water pillows. In this Mediflow Pillow review, we'll take a look at this bestselling water pillow and check if it's worth the hype.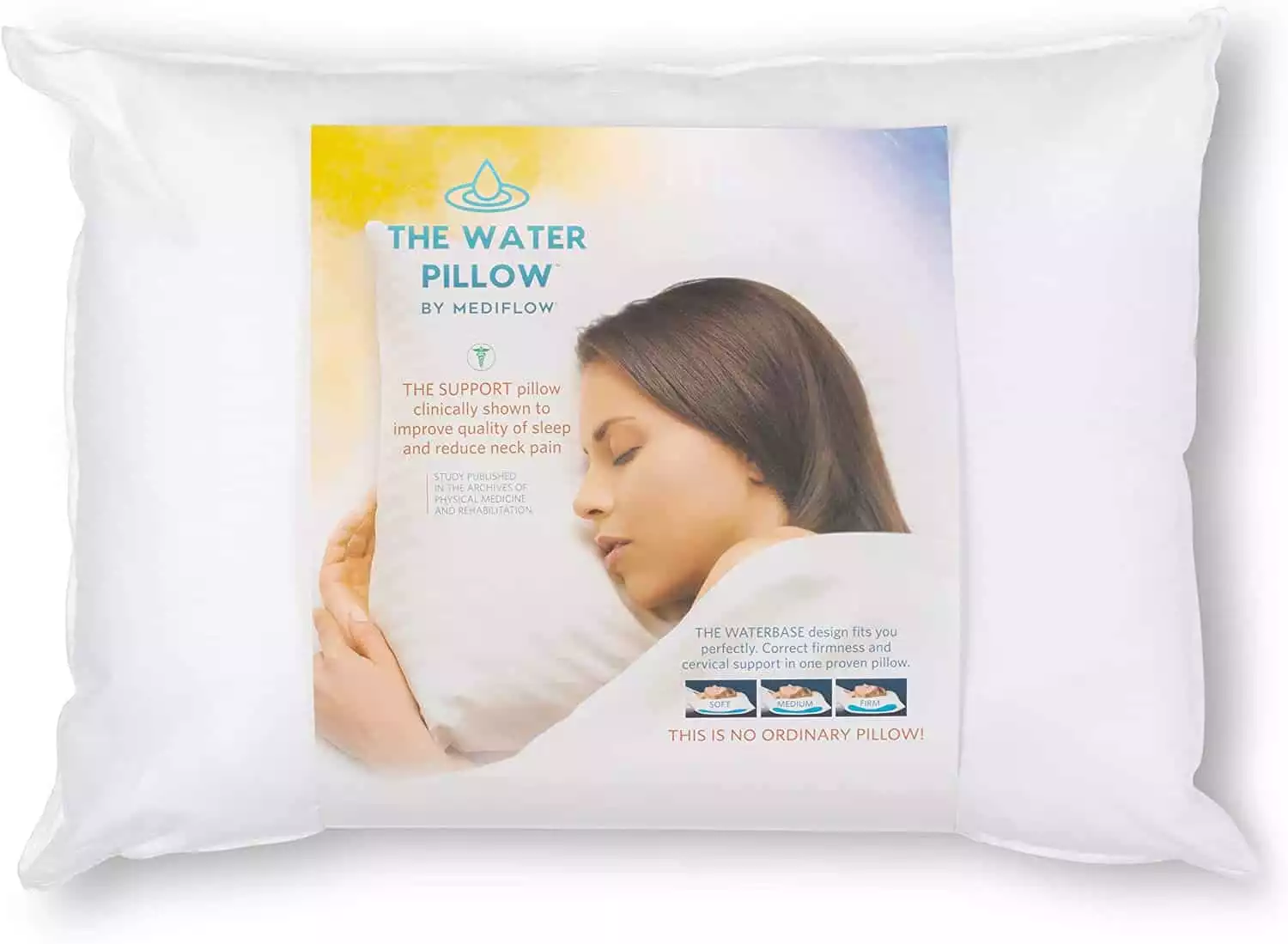 Things to Consider Before Buying a Water Pillow
A waterbase pillow has an internal water pouch that's refillable and adjustable. The outside layer is any type of soft material usually found in regular pillows. Because of the water chamber, a water pillow's loft can be customized. The pillow also moves with you as you sleep because of its fluid nature.
A waterbase pillow is best for people with neck pain, sleepers who toss and turn through the night, and individuals looking for a pillow with long-lasting support.
However, people who sleep on their stomach and light sleepers who are sensitive to sound are not ideal candidates for a waterbase pillow. Here are the top things to check before you make your water pillow purchase.
Fill Material
Aside from the internal water sac, water pillows have an outer layer of regular fill material such as polyester fiber, memory foam, down and down alternative. Polyester fiber is an affordable, hypoallergenic, and odorless option, so it has an edge over down, which tends to trigger allergies in sensitive people.
Memory foam offers exceptional pressure relief as it molds to the body closely but it's not for hot sleepers. Down alternative is made from polyester fiber but feels more like down, so it's a good hypoallergenic water pillow fill.
Firmness and Loft
You can customize the firmness and loft of a waterbase pillow but take note of its height and feel at its fullest capacity. Side sleepers need support for their neck so choose a waterbase pillow with a loft that can fill in the gap between the head and shoulders. Back sleepers will want a lower lofted waterbase pillow and stomach sleepers need a thin loft.
Pressure Relief and Support
As with all pillows, you'll want to get a waterbase pillow that provides an even surface for you to lay your head on and helps to maintain proper spinal alignment. Choosing the right loft and firmness will give you improved quality of sleep.
Durability and Construction
With a waterbase pillow, there's a risk of leaking so make sure to get a high quality pillow that has a tight seal around the water chamber. The waterbase pillow should be easy to refill and clean and made from durable materials.
Cost and Warranty
Always consider your budget as it's not worth it to go into financial ruin for any kind of product. There are good water pillows at an affordable price point. Check the fine print to see if you can return the pillow in case there are any defects.
Presenting the Product: Mediflow Fiber
Going into the meat of our review, here's everything you need to know at a glance about the Mediflow Water Pillow. This particular variant is the brand's original pillow, the Mediflow Fiber pillow.
This is a unique water pillow made with an internal layer of water for support and a soft layer of Dacron Hollofil polyester fiber for cushioning. The Dacron Hollofil fiber is a resilient and fluffy type of polyester that gives a long-lasting loft.
The pillow has a proprietary Waterbase Technology and it's been shown to improve quality of sleep and alleviate neck pain in a clinical study by The Johns Hopkins School of Medicine.
It measures 28 x 20 x 4.5 inches and can fit a standard or queen size pillowcase. It weighs 2 pounds unfilled and is encased by a cover made of 200-thread count cotton. The pillow has an adjustable water chamber and with your purchase, you'll get an instructions manual, a cap, and a funnel.
The Mediflow pillow is a market leader in its category. Mediflow also has other versions with other types of fill. It's backed by a 1-year warranty that covers manufacturing defects. It comes with a 30-day sleep trial.
The Mediflow Original Fiber Pillow is best for side and back sleepers and individuals dealing with neck pain. It's also a good waterbase pillow for people looking for an adjustable loft and firmness and who want to enjoy a deep sleep without interruptions.
This product is not for stomach sleepers as well as individuals who don't want to undergo a bit of trial and error to get the perfect fit. It's also not the best pillow for light sleepers because the water sloshes around.
Pros
The Mediflow pillow has completely adjustable firmness and loft with a Waterbase Technology
Has a resilient polyester fiber fill and a soft cotton cover, measures 28″ x 20″ x 4.5″
Comes with instructions, a cap and a funnel
Backed by a 1-year warranty and 30-day money back guarantee
Best for back and side sleepers and people with neck pain
Cons
The waterbase pillow is not for stomach sleepers
Not for individuals who want a great pillow right out of the box
Not for people sensitive to the sound of water sloshing around the chamber
Features & Benefits
Fill
The core of the Mediflow waterbase pillow is made of an insulated water sac. This is covered by a soft layer of hypoallergenic Dacron Hollofil fiber, which is a fluffy type of polyester made of insulating and lightweight hollow fibers.
It's low maintenance because it can be machine washed and dried. The insulated water pouch, which uses Mediflow's Waterbase Technology, is adjustable and refillable. You can access this inner chamber through a valve. It's easy to adjust the water content as the pillow comes with a dual purpose funnel. The funnel doubles as a wrench that unlocks the cap of the valve.
Note that Mediflow pillow is heavy when filled. Even with half the amount of water needed for the full loft, it weighs about 8 pounds, which is definitely heavier than most pillows. The fill is not moldable as it resists scrunching due to its dense water pouch layer. The pillow, therefore, is not the most transportable but it will stay in place through the night even if you change sleeping positions often.
Cover
The pillow cover is constructed from polycotton with a 200 thread count. It's a hypoallergenic pillow as it's made of polyester fiber fill and polycotton. This makes the Mediflow a suitable pillow for people with allergies and respiratory issues.
Cotton is an airy fabric that wicks away moisture from the body, which ensures that the pillow will sleep cool, especially when combined with the water chamber.
The Mediflow water pillow comes in one size, the jumbo size. It measures 18″ x 26″ which is between a standard and queen size pillow. It has a loft of 4.5 inches.
Pressure Relief and Support
The water pillow by Mediflow will adjust to your sleeping position, as is the case with all water pillows. What's great about the Mediflow pillow is its ability to provide an even and supportive surface night after night. It's resistant to flattening as the water is tightly sealed in the inner pouch.
Another feature shared by all water pillows is the adjustabilityof its loft and firmness. This means you can add or remove water as needed to get the perfect fit for your sleeping position. The refilling process is simple and Mediflow provides a funnel and instructions detailing the exact ounces needed for a soft, medium, or firm setting.
The pillow comes with Waterbase Technology, clinically proven to reduce neck pain in a study made by the School of Medicine in Johns Hopkins. The combed fiber fill is plush and comfortable. The water chamber helps the pillow mold closely to the body to cradle pressure points in the head, neck, and shoulders.
The water base pillow gives the right level of support to keep your head, shoulders, and hips in a comfortable neutral alignment which melts away any pressure points that build up in the body.
The water adjusts as you switch positions throughout the night, so there's no need to fluff it up constantly. You can add between 2 to 5 liters of water to the pillow. After filling the water pouch, you'll need to press down to remove the air pockets that may have formed inside. This reduces the sloshing of water when the pillow is bearing weight.
That being said, the sloshing is not completely eliminated, so if you're a light sleeper who wakes up at the slightest sound, this may interrupt your slumber.
You do have to test out different water levels to arrive at the perfect fit. If you don't mind a bit of trial and error, you'll love the water pillow by Mediflow.
Sleeping Position
The Mediflow Water Base Pillow is best for back and side sleeping. Sleepers who prefer these positions who will get the most out of the pillow due to the relatively high loft they need compared to stomach sleeping.
When filled up to full or near full capacity, it will offer excellent support for side sleepers who tend to put pressure on their shoulders, head and neck. A middle ground is recommended for back sleepers who need just enough lift to keep their hips and back in line with the head and neck.
Stomach sleepers will need a pillow with a thin profile. Bear in mind the water pouch is covered by a layer of fluffy fiber fill, so the Mediflow Water Base Pillow will never be low enough for a stomach sleeper's comfort.
Care Instructions
The Mediflow Water Base pillow should have its water replaced every year at a minimum. It's machine washable and dryer safe. Before washing the pillow, you need to empty the water chamber.
Use a delicate cycle with cold water. Then, tumble dry on low. The pillow should not be ironed, dry cleaned, or washed with bleach.
Value and Warranty
The Mediflow pillow is backed by a 1-year warranty for manufacturing defects. There's added peace of mind with its risk-free 30-day satisfaction guarantee. The pillow offers great value as it comes well under $100 and it's garnered stellar marks in hundreds of reviews.
Social Proof
It's unsurprising that the Mediflow pillow is one of the most popular water pillows in the market. After searching the web for some reviews from real customers, I found that a lot of people have heaped praises on the pillow. Here are some of them.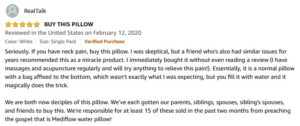 Alternatives
If you want to do some comparison shopping, here are the most similar pillows to the Mediflow water pillow, with a few differences.
Chiroflow Waterbase Waterpillow
This is another polyester water pillow that's highly rated. It has a waterbase design with a comfort layer made of Dacron Hollofil, just like the Mediflow pillow. It's also completely adjustable. This comes in a jumbo size that fits both standard and queen pillowcases. The outer covering is not as soft as the polycotton on the Mediflow pillow but it does have a higher thread count. It's also available in a similar price point. A thermal insulator wraps around the water pouch core. This is a fairly thick water pillow, so it's best for side and back sleepers. It's great for alleviating neck pain and pressure points, plus it's backed by a 3-year warranty, which is more extensive than Mediflow's.
A 5.39 inch water pillow at an affordable price point
Has a polyester cushion layer
The water chamber is surrounded by an insulating layer
Comes in one size and offers excellent pain relief
FOMI Large Water Sleeping Pillow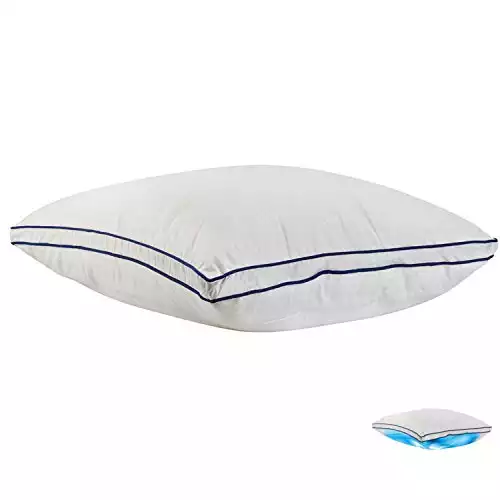 This is a smaller water pillow that measures 26″ X 17″ but it also comes at a more affordable price point. I like the gusseted design with blue piping. It has fiber fill cushion layer and cotton cover that feels soft and breathable. The firmness can be adjusted to soft, medium or firm by adding or removing water from the inner chamber. It alleviates tension in the head, neck and shoulders and the water moves with you as you change positions. This is excellent for people who want to try out water pillows before investing in a more expensive version or budget-conscious shoppers who want quality for a low price. The FOMI water pillow is sure to surpass expectations.
Comes in a large size which measures 26″ x 17″
Has a gusset and water base core that offers great support and pain relief
The fill is made of polyester and is encased by a cotton cover
Has adjustable firmness and a more affordable price point than the Mediflow water pillow
Conclusion
For people looking for a consistently supportive pillow, it's hard to find a better water pillow than the Mediflow Fiber Pillow.
The loft and firmness is adjustable and while it takes a little trial and error to land at the Goldilocks level of superior comfort, it's infiintely rewarding, especially if you're suffering from neck pain.
The water-based pillow helps you improve your sleep quality and it's clinically shown to be effective for pain relief. Best of all, it comes at a more affordable price point than orthopedic pillows, which can be divisive as they require a lengthy breaking in period.
If you are open to customizing your pillow and can tolerate a bit of sloshing water inside the water pouch every now and then, this is the pillow to buy. It's safe to say that the hype is truly real.
Check out the Mediflow Fiber Pillow if you want to know more.
Other Recommended Products