I've always liked sleeping on soft, traditional pillows but their plushness don't last very long and they quickly lose their shape and support. This is annoying, especially if you're fond of side sleeping. Orthopedic pillows have always piqued my curiosity but to be honest, they look intimidating, from the deep indentations to their firmness. After reading a Therapeutica Sleeping Pillow review, I realized it might just the right pillow for easing neck pain and various other aches from poor spinal alignment. Find out if this orthopedic pillow lives up to its name.
Therapeutica Sleeping Pillow Review
The Therapeutica Sleeping Pillow is a firm orthopedic pillow made out of foam. It comes in 5 sizes, namely Average, Child, Petite, Large, and X-Large. The most popular sizes are Petite and Average.
It promises to restore the natural curvature of the spine when you sleep. The pillow can help with neck and back pain while aligning the head to the spine through its contoured design.
The pillow has a center cavity, cervical contour, a raised side panel on each side, and a wedge extension. The molded foam is free from toxins and allergens, so it's safe to use for kids, sensitive people, and those with respiratory issues. The core is encased by a cotton cover.
The pillow has a long adjustment period. That means you need to break it in and alternate it with another pillow for a few weeks.
Pros
Many sizes available, allowing you to tailor fit the pillow to your body
Offers good support with its contoured design and foam fill
Alleviates pressure points for supreme pain relief
Versatile, good for both back and side sleeping
Hypoallergenic and non-toxic, therefore safe to use
Cons
No return policy and not refundable as it's sold as a medical device, and there are no details on warranty
May feel uncomfortable in the first few weeks
Can slide if you sleep on your side if you don't use a pillowcase that's grippy
Features & Benefits
Design
The Therapeutica Sleeping Pillow was made by a designer who collaborated with a chiropractor. The molded foam is non-toxic and non-allergenic. The orthopedic pillow has an ergonomic construction that's best for side and back sleepers with a central cavity for cradling the head.
The cervical contour and wedge extension supports the spine whether you're on your side or back. The side panels support the neck and shoulders when side sleeping. There's also a side channel for relieving tension in the jaw.
That being said, the Therapeutica Sleeping Pillow prioritizes function over style. Its design looks quite intimidating and frankly, a bit uncomfortable. If you're used to plush pillows, it can take some time to get used to but for spinal alignment and pain alleviation, this is an excellent choice.
Sizes
So that you get the most well-fitting Therapeutica Sleeping Pillow, the brand provides a measuring guide. They advise using a ruler to find the exact length between your neck and shoulder. Afterward, consult their sizing guide to pick the best pillow for your body. I appreciated the detailed step-by-step instructions that guide you through the whole measuring process.
The Therapeutica Sleeping Pillow is available in Child, Petite, Average, Large, and X-Large. For individuals who fall in between sizes or have a soft mattress, it's recommended to choose the smaller pillow. The most common sizes are Petite and Average. Be aware that your clothing size has no relation to your Therapeutica Pillow size, so measure first before you buy.
Firmness and Support
Though the Therapeutica Sleeping Pillow is available in Original Firm and Less Firm, there's only one firmness level for this offering. The Original Firm variant that's on the market has very firm support. This is not surprising because it's an orthopedic pillow that's meant to correct your sleeping posture. A very soft pillow will compress easily when bearing weight.
The Therapeutica Sleeping Pillow is firm but with a responsive surface that feels soft. Over time, the initially firm pillow will get softer after you break it in. Due to the firmness of its molded foam, the Therapeutica Sleeping Pillow has great support. The center cavity cradles the head so it sinks in alignment with the shoulders, and back. This contoured headrest has airflow channels that make the pillow more breathable to sleep on.
There's also cervical contour which has a gentle slope, meant to prop up the cervical spine, which is a common pressure point. A wedge extension is softly inclined and supports the upper back. The left and right channels are specifically meant for side sleeping, who need to rest their cheeks and jaw on the pillow. The loft fills in the gap between the neck and shoulders which prevents a sore neck.
This pillow is also useful as a snoring aid for back sleepers. It supports the alignment of the head and neck and allows the muscles of the throat to relax in their natural position. Even if you don't snore, though, you'll benefit from the pressure relief this pillow gives, especially if you have back and neck pain.
Pillow Cover
The Therapeutica Sleeping Pillow has a zippered cover made of a cotton-polyester blend. The soft and well-fitted cover is breathable and durable. It's also temperature-neutral, which is a bonus for hot sleepers.
Pillow maintenance is easy with this removable and machine washable cover.
If you sleep on your side, make sure to get a textured pillowcase to help the Therapeutica Sleeping Pillow stay in place. It has a tendency to slide if it doesn't get enough traction.
Either way, you'll want to get an additional cover for the pillow to prevent dirt and stains from accumulating. The fabric is also less soft than I'd prefer but it's nothing that can't be solved by a decent pillowcase.
Sleeping Position
The Therapeutica Sleeping Pillow is best for side and back sleeping.
When sleeping on your back, you have to position yourself in the middle of the pillow so your head drops into the central cavity and your neck rests on the wedge. This ensures you keep your head and spine aligned and release pressure points in the neck and back.
At first, it may feel odd sleeping with the wedge extension under your neck but you will get used to it. The pillow keeps your head at just the right height for pain-free and deep sleep.
Side sleepers will also love this pillow because of the two side channels on the left and right. This raises the head at a comfortable level in which your shoulders rest naturally in line with the rest of the body without scrunching too far up or down.
It also prevents cricks in the neck and shoulders from forcing yourself into pretzel-like positions in order to sleep comfortably. If you measured yourself correctly, your pillow size will naturally support your neck at the right height without further effort. The best part is that when your head and neck fall in alignment, tension is released in the rest of your spine, back, and hips.
This pillow is a versatile choice for side, back, and combination sleepers. The one sleeping position it won't support is lying on your stomach. The loft is just too high for comfortable stomach sleeping and the contours will get in the way when you rest your head onto the side.
Value for Money
With its unique, ergonomic design, responsive and comfortable foam, and non-toxic and non-allergenic materials, this pillow carries a relatively higher price tag than your average pillow. If you're satisfied with your pillow now, there's no reason to splurge on something that might not be right for you. However, if you're tired of waking up with a sore neck and back pain, I highly recommend the Therapeutica Sleeping Pillow.
The pillow has a long breaking in period and you'll need to switch between pillows regularly until the pillow adjusts and you get more comfortable with it. If you're up to the task, it's worth the splurge, in my opinion.
The Therapeutica Sleeping Pillow is classified as a medical device, so sadly, it's non-returnable and non-refundable if taken out of its original package. I couldn't find any warranty details so you'll have to contact the seller for more information. Check if your insurance provider covers this pillow if you're looking for a good deal.
Social Proof
After some browsing, I've found user reviews on the Therapeutica Sleeping Pillow from consumers who spent a long time with the product and found it effective. If you're hesitant about buying this pillow, maybe their experiences can shift your view.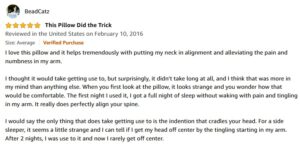 Alternatives
These pillows have similar features to the Therapeutica Sleeping Pillow with a few differences. If you want to compare options before you shop, this is a great place to start.
Core Products Tri-Core Cervical Support Pillow
This orthopedic pillow has a simpler design than the Therapeutica Sleeping Pillow. It has raised side sections for side sleepers and offers two areas for neck support. One edge is firmer and larger for maximum support. In case you don't like that, there's also another cervical roll that's softer.
The pillow has a cavity for resting the head on. The fill is made of polyester fiber fill, which means this is a plush alternative to the Therapeutica Sleeping Pillow but it's still quite firm as pillows go. This one is meant for spinal correction as well and has an adjustment period. There's a blended cotton cover to protect the core.
The pillow is available in three sizes only but this pillow is more than half the price of the Therapeutica Sleeping Pillow.
Three sizes
More affordable than the Therapeutica Sleeping Pillow
Two firmness options for the neck
Polyester fiber fill
Blended cotton pillow cover
Best for side and back sleeping
EPABO Contour Memory Foam Pillow Orthopedic Sleeping Pillows
This is another cost-friendly alternative to the Therapeutica Sleeping Pillow. It's made of memory foam and a machine washable rayon-polyester blend cover. This soft yet firm cervical pillow also offers spinal support and has a dip in the middle for cradling the head.
The materials are free of chemicals so it's safe to use. It's available in three variations and is somewhat adjustable because of a removable piece of foam inside.
The pillow has a breaking-in period similar to the Therapeutica Sleeping Pillow. Unlike Therapeutica's offering, this has a 30-day return policy with a complete refund.
More affordable than the Therapeutica Sleeping Pillow
Has a memory foam core that's soft but firm
Has a machine washable cover made from rayon and polyester
Semi-adjustable and comes in three variants
Best for side and back sleeping
30-day return policy
IKSTAR Memory-Foam Pillow for Sleeping
This non-toxic odorless contour memory foam pillow is slightly more affordable than the Therapeutica Sleeping Pillow with the same benefits. It has a headrest for spinal alignment, cut-outs for shoulder support, and a wedge extension for the neck. You can also pick from the high side or the low side, depending on your neck dimensions.
It comes with a breathable pillow cover that's temperature neutral. The memory foam core has slow responsiveness so it molds closely to your head when you sleep. This is best for side and back sleepers and has a 30-day return policy with a full refund, plus a 2-year warranty.
A bit more affordable than the Therapeutica Sleeping Pillow
Made of premium CertiPUR-US certified memory foam
Has a high and low contour option for the neck, shoulder cutouts and a head cavity
Best for side and back sleeping
30-day return policy and 2-year warranty
Comes in only one size
Things to Consider Before Buying an Orthopedic Pillow
Orthopedic pillows are recommended by doctors to treat and manage neck and back pain and other skeletal concerns. These pillows help maintain proper posture as you sleep, a benefit that softer traditionally shaped pillows may lack.
In effect, orthopedic pillows prevent pain that builds from pressure points. That's why the best candidates for orthopedic pillows are individuals suffering from physical ailments like neck and back pain caused by a lack of proper support.
The contoured profile of orthopedic pillows are actually quite comfortable once you get used to it, but if you're someone who wants comfort right out of the box, an orthopedic pillow may not be for you. These pillows are typically more expensive than traditional pillows, so if it's out of your budget, you may be happier with an affordable model.
Here are factors to consider before buying an orthopedic pillow:
Fill
Memory foam is one of the best cores for orthopedic pillows because it won't lose its shape and support. The pillows are also available in latex and fiber variants.
Firmness
Orthopedic pillows tend to be firmer than the typical cloud-like pillows on the market but you should take care to buy one that's not too firm. It should be closely conforming and comfortable.
Thickness
Find an orthopedic pillow that's thick enough to support your head and back so your spine stays aligned in your preferred sleep position. Too thick or too thin, and your neck will take the brunt of the strain.
Design
Orthopedic pillows come in all forms but contoured pillows are best for alleviating pressure points and maintaining spinal alignment.
Temperature Neutrality
If you're choosing a memory foam fill, make sure it's well-constructed. It should be breathable and temperature-neutral (if not cooling) with a soft, airy cover so you don't sleep warm.
Value for Money and Warranty
Since orthopedic pillows run a bit pricey, make sure the pillow has a good return policy and warranty. This allows you to try out the pillow and see if it's a good fit.
Final Thoughts
The Therapeutica Pillow is one of the best neck support pillows on the market. Though it comes with an above average price tag with no return policy or refund, this chiropractor-approved pillow can cure a multitude of woes.
If you're a side or back sleeper suffering from aches and pain, I highly recommend it. Its firmness is just the thing to correct your sleeping posture. It has a unique ergonomic design that's well thought out and functional.
After a substantial adjustment period, you'll be sleeping peacefully. I like that this therapeutic pillow comes in several sizes as I believe there's no one size fits all pillow, especially if you're looking for a pillow for cervical support.
If you're on the lookout for the best neck supporting pillow in the market, I think you can shorten your search by trying out the Therapeutica Sleeping Pillow. Check out this link for more details.
Other Recommended Products