People afflicted with scoliosis need a significant amount of support when they sleep. The best mattress for scoliosis will ease pressure points and prevent tension build-up. There are many things to consider so that they can get a deep, uninterrupted sleep. In this guide, I'll help you choose the right mattress for back health and pain alleviation so you get your recommended 8 hours at night.
A Buying Guide to Mattresses for Scoliosis
A Closer Look at Scoliosis: Best and Worst Sleep Positions
How Scoliosis Affects Sleep
Scoliosis is a difficult condition to live with. It's not just an abnormal curvature in the spine. At the very least, it causes discomfort. People with scoliosis can experience muscle pain, tension headaches, and shortness of breath. A significant percentage of teenagers with scoliosis have back pain that interferes with their sleep, which leads to exhaustion during the day.
Scoliosis can make it harder to fall and stay asleep. The unnatural curve of the spine can strain areas in the body. Wearing a brace also creates sharp pressure points.
Scoliosis affects the lungs and breathing issues are a common occurrence, which may disrupt sleep or make it difficult to participate in strenuous exercise. Thoracic curves interfere with the movement of the ribs which affects the ability of the lungs to take in air.
Pain medications can affect sleep quality, too. This can lead to further issues because sleep is the foundation of health. The lack of good sleep can affect alertness, mood, hunger, and the ability to absorb information.
Due to these complicating factors, it can be hard to choose a mattress for scoliosis. The most important quality to consider is spinal alignment. Encouraging a neutral curvature in the spine will ease aches and pains.
You need a mattress with good support and pressure relief. This is also quite subjective to your case, so consult your doctor before buying. A lot of scoliosis sufferers prefer a mattress with zoned support but your experience may vary.
Best Sleeping Position for Scoliosis
Experts recommend lying flat on your back if you have scoliosis and don't wear a corrective brace. The body, from the head to the hips, should be aligned.
Back sleeping promotes even weight distribution and natural spinal alignment. Use a pillow to fill in spaces between the sleeper and the mattress. This can be under the shoulders or lumbar spine. The scoliosis sufferer will benefit from cervical pillows or donut pillows, which have a recession in its center, so their head can rest comfortably.
The second best sleeping position if you have scoliosis is on your side. Any side will do and one side isn't better than the other. Refrain from curling and turning. Keep a straight spine as much as possible and use a pillow between your knees. However, if your spinal curvature makes this sleeping position uncomfortable, don't force it.
Side sleepers should beware of too much sinkage and not enough sinkage. The hips and shoulders should rest comfortably in a neutral alignment on a surface that's plush yet supportive.
The worst sleeping position for scoliosis is on the stomach because it cranes your head to the side and twists your neck to an unnatural angle. It also creates pressure in the back which throws off your spinal alignment because the hips arch upwards.
Common Questions About Scoliosis and Sleep
Are adjustable beds good for scoliosis?
Adjustable beds can be beneficial for scoliosis because they provide individualized support. It has an edge over traditional beds because it can target specific pressure points unique to the individual which pillows and bolsters can't alleviate.
Can a bad mattress cause scoliosis?
Mattresses in themselves do not cause scoliosis. While a bad mattress is uncomfortable to sleep on and exacerbate back pain, it won't push your spine into an unnatural curve.
The things that may cause scoliosis are hereditary factors, neuromuscular conditions, developmental birth defects, and spine injuries and infections.
How to Choose the Best Mattress for Scoliosis
Mattress Type
Mattresses are classified as foam, hybrid, innerspring, latex, and airbed. One type isn't necessarily better than the other. It's all up to the consumer's needs and preferences.
Hybrid
Hybrid mattresses offer balanced support because they're made of foam and innerspring coils. The construction eases pressure points while reducing motion transfer and improving responsiveness.
Innerspring
Innerspring mattresses are more old school but have stood the test of time because of their reasonable price point. While they're breathable and have solid support, they're not plush enough to give good pressure relief for people with scoliosis.
Latex
Latex mattresses can be made from natural or synthetic latex. The former is made from the sap of the rubber tree. Synthetic latex is cheaper. Latex mattresses come in various firmness levels and sleep cool. Latex is a durable material that gives pressure relief without too much contouring.
Foam
Foam mattresses have all foam comfort layers and support layers. These are the most conforming material for mattresses which can be soothing to pressure points. Foam mattresses can also promote natural spinal alignment with the right firmness.
Airbed
Airbeds use air chambers as a support layer and they're completely adjustable through a crank or app. There are also internal split type mattresses with a different firmness for each side, which is great for couples. Airbeds can use soft materials as a thin comfort layer. The biggest advantage of this mattress is its adjustability, a feature that provides customized support for scoliosis.
High Quality Materials
While all brands will claim their mattresses are of high quality, you have to look closer if they have anything to back up these claims. High density foam and higher coil counts are indicators of quality. A high quality mattress will last longer than a low-grade mattress, regardless of price. This will resist sagging and maintain its support for years.
Firmness and Support
Scoliosis patients need a flat, even surface to sleep on, something that's not too soft or too firm. The ideal mattress firmness depends on the sleeper's bodyweight because heavier sleepers sink deeper into the bed while lighter sleepers (less than 130 pounds) tend to lay on top of the surface of the mattress. Generally, a medium firm mattress is the best setting.
Aside from weight, you should consider the sleep position of the scoliosis sufferer.
Stomach sleeping is not recommended for scoliosis. Side sleepers will be most comfortable with a softer mattress with enough sinkage to cradle the hips and shoulders. Back sleepers will like a fairly soft mattress so pressure points don't build in the lower back.
Motion Isolation
Scoliosis patients may suffer from chronic back pain which makes them sensitive to motion on mattresses. A mattress with good motion isolation absorbs movement well so the sleeper isn't disturbed if they change positions through the night or if someone gets out of the bed. Memory foam excels in motion isolation while bouncier materials do not reduce motion transfer well.
The 5 Best Mattresses for Scoliosis: Picks for Good Spine Health and Pain Reduction
This is a chiropractor-approved hybrid innerspring mattress that combines the durability and responsiveness of innerspring with the conforming, pressure-relieving effects of foam. It's very thick, with a profile of 14.5 inches, which means this is an easy bed to get in and out of.
It can support sleepers of all sizes and weights. That's why it's highly recommended for heavier scoliosis patients who need that extra support.
This mattress will resist sagging and feel comfortable years after you first sleep on it.
A feature that comes with hybrid and innerspring mattresses is supreme breathability, and that's true with the Saatva Classic Mattress. It has an organic cotton Euro pillowtop cover that's breathable and feels good on the skin. The coil system allows air to circulate freely.
This has an even surface that will encourage a natural spinal curvature in people with scoliosis, plus reinforced edge support so the sides of the mattress don't sink. The memory foam and foam comfort layers cushion pressure points so you sleep pain-free.
With three firmness settings to choose from, there's bound to be a Saatva Mattress for your needs and scoliosis type. The Luxury Firm mattress is their bestseller and it has a true medium firm feel that's good for most people.
That being said, this mattress doesn't have the close conforming feel of memory foam. It also doesn't have great motion isolation, so it might not be the best mattress for couples and light sleepers.
Pros
180-night sleep trial and free white glove delivery
A thick hybrid innerspring mattress with foam comfort layers
Great for heavier people with scoliosis; chiropractor-recommended
Durable and long-lasting
Provides even support with reinforced edges
Has good pressure relief
Three firmness levels available
Cons
Not for scoliosis patients who prefer the hug of memory foam
Motion isolation isn't that good, as it's made of innerspring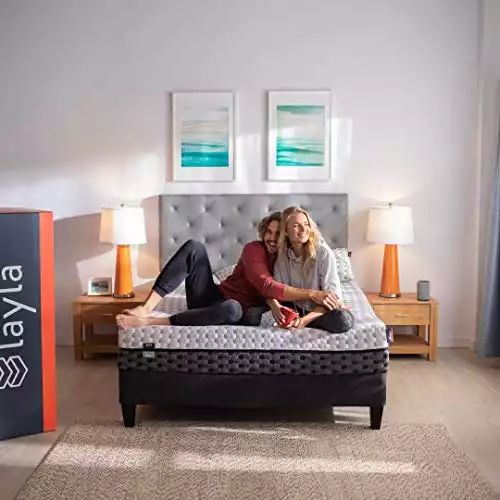 If you're after the close cradle of memory foam and are of average size, this is the one of the best mattresses for scoliosis patients like you.
This is unique because it's flippable with a different firmness on each side. You can choose from the Medium Soft side (around a 4 on the firmness scale) and the Firm side (7 or medium firm). Whatever your sleep position is, you'll sleep comfortably on the Layla Mattress.
The mattress has Layla's signature copper-infused memory foam which has antimicrobial properties. It also has adaptive support and temperature regulation.
The cooling cover has a hexagonal pattern, another Layla signature. The Thermo-gel cooling technology helps mitigate the warmth retention of memory foam.
Both sides of the Layla mattress molds closely to the body which releases pressure build up in areas where you need it. It also supports the spine and keeps it in a straight line to ease any pain that can interrupt a scoliosis sufferer's sleep.
Because this is made of pure foam, the layers dampen motion transfer so you don't wake up when you change positions when sleeping or lie next to a fidgety partner. Side and back sleepers will delight in the plush yet supportive feel of memory foam. Even hot sleepers will feel comfortable sleeping on the Layla mattress.
However, this isn't the mattress for you if you're significantly heavier (above 230 lbs). Even if you sleep on the firmer side, you'll sink quite a bit into the bed.
Pros
120-night sleep trial and lifetime warranty
A flippable memory foam mattress with a soft and firm side
Good for all types of sleepers below 230 pounds, best for side and back sleepers
Has a comfort layer of copper-infused memory foam
Sleeps cool through a temperature regulating technology
Closely conforming and eases pressure points
Provides even support for spinal alignment and pain prevention
Great motion isolation
Cons
Not for scoliosis sufferers over 230 pounds
The firmness options that the Winkbed offers will have you spoilt for choice. It's available in the following variations: Softer (4), Luxury Firm (6), Firmer (7) and Plus (8).
This mattress has a double pocketed coil layer topped by a gel-infused foam and two layers of a quilted Euro-pillow top. The Tencel cover is all-natural and made from eucalyptus. It feels soft and has cooling and moisture-wicking abilities so you sleep cooler.
With its deep pocketed coil system, the Winkbed offers dynamic support for scoliosis sufferers. Side sleepers will get plenty of pressure relief from the soft variants while back sleepers are more suited to the Luxury Firm and Firmer mattresses, both of which are medium firm offerings.
Inside the mattress is a spring layer with zoned support which is firmer in the shoulders and hips where most of our body weight lies when we sleep. It's softer in lumbar spine region where you need less firmness.
This hybrid mattress holds up exceptionally well and resists sagging. It's a mattress for scoliosis with a support that won't decrease even years after your purchase.
If you prefer a close conforming mattress, you should be aware that the Winkbed doesn't have much sinkage. You will lie on top of the mattress instead of in it. If that's a dealbreaker for you, a foam mattress is the better choice.
Pros
120-night sleep trial and lifetime warranty
A strong, sturdy hybrid mattress
Available in Softer, Luxury Firm, Firmer and Plus
Has two layers of pocketed coils
Comfort layers are made of foam and a quilted pillow top
Has a cooling, eucalyptus-based Tencel fabric cover
Offers great pressure relief for side and back sleepers
Has zoned support
Durable and sag-resistant
Cons
Not as contouring as memory foam mattresses
Two things make the Casper Wave Hybrid Mattress from other offerings on the scoliosis mattress market.
Firstly, it's recommended by the American Chiropractic Association. If you suffer from back pain due to scoliosis, this mattress is a great investment.
Secondly, this mattress has the same Zoned Support Max found in the Casper Original Mattress but it has more sophisticated zoned support than the original version.
The hybrid mattress has a breathable, stretchy knit cover and responsive poly foam comfort layers with a gel surface. It features the brand's Airscape technology for extra airflow.
There's also a natural latex layer and while it's not thick, it does add more support, responsiveness and durability to the mattress.
The flagship feature of this mattress is its zoned support system. The first support layer is comprised of memory foam that's firmer in the middle to help with spinal alignment, which is key for alleviating scoliosis pain.
Beneath that is the zoned support poly foam layer. You get areas of various softness and support around the mattress while in the center are gel pods that support the lumbar region. This reinforces the supportive memory foam layer and prevents back pain.
The main support layer is made up of foam-encased coils.
The mattress has a medium feel and the foam is not too soft and not too firm. It's good for side and back sleepers looking for pressure relief for scoliosis. Back sleepers are especially suited to this due to the zoned support for the lumbar spine.
That being said, this mattress is not the best choice for budget-conscious shoppers and stomach sleepers.
Pros
100-night sleep trial and 10-year warranty
A chiropractor-endorsed hybrid mattress with a poly foam comfort layer
Feels cool and has a gel layer and knit cover for maximum breathability
Advanced zoned support for easing pressure points and back pain due to scoliosis
Is firmer around the lumbar spine, great for back sleepers
Firmness level is medium, so it's suitable for side sleepers
Responsive and durable
Cons
Quite expensive, definitely an investment mattress
Not for stomach sleepers
This is the mattress that started it all for the bed-in-a-box company. If you crave that foam feel but don't find the quicksand quality of memory foam appealing (which I understand), this is one of the best mattresses for scoliosis sufferers like you.
The medium firm mattress will be comfortable for most sleepers because it's not too soft and not too firm. In terms of sinkage, you'll dip into the foam at your hips and lumbar region. However, despite the subtle softness, it's easy to move around the mattress and change positions, great if you toss and turn during the night.
Despite its all foam construction, the comfort layer is responsive, meaning it springs back into place after removing pressure into it. It has a twill cover and proprietary foam top layer that's more temperature neutral than memory foam.
Beneath the surface is a slab of memory foam which balances the former layer's responsiveness. It contours the body and relieves pressure points with the characteristic slow responsiveness of memory foam.
This is a highly-rated mattresses for back sleepers, so it will benefit scoliosis patients immensely. Side sleepers will be comfortable with the conforming surface that will cradle their hips and shoulders without too much sinkage.
It also sleeps cool, combining the benefits of a memory foam mattress without the stuffiness.
This mattress isn't the best option for stomach sleepers or any scoliosis sufferer that prefers a firmer mattress. This is also not as contouring as true memory foam mattresses, so definitely temper your expectations in that criterion.
Pros
100-night sleep trial and 10-year warranty
A neutral foam mattress for scoliosis
A medium firm mattress with a foam comfort layer
Best for side sleepers
Great pressure relief for the hips, lumbar spine, and shoulders
Easy to move around on
Responsive and bouncy
Has a temperature regulating twill cover and proprietary foam comfort layer
Cons
Not for stomach sleepers with scoliosis
Not for scoliosis patients who want a firmer surface to sleep on
Not for people who want the close conforming quality of memory foam
Conclusion
That ends this brief roundup of the top-rated mattresses for scoliosis. There are memory foam and hybrid options at very price range so you find the best mattress for your particular case.
As always, you have to consider individual quirks and tastes when you shop. Definitely compare mattresses before you splurge and take advantage of the sleep trials offered.
If I were to name my top pick, the best mattress for scoliosis is the Casper Wave Hybrid Mattress.
Its firmness is just in between soft and firm, a true medium, which will be comfortable for most scoliosis patients whatever their weight and sleep position is. The hybrid mattress has a balanced feel and a zoned support system that is firmer around the lumbar spine. No wonder chiropractors recommend it for people with scoliosis.
While it's a steep investment, the quality of the materials speak for themselves. And if you still have doubts, you can avail of the 100-night sleep trial and be covered by a 10-year warranty.
If you're tired of being awakened by aches and pains, this mattress has your back.
Other Recommended Products